About Johanna Griffiths, Esq.
Experienced, Dedicated & Successful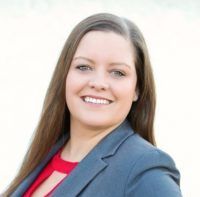 Johanna Griffiths
Partner
With her roots on a dairy farm in Southeastern Pennsylvania, Attorney Johanna Griffiths moved to Boston nearly 14 years ago to follow the only dream she ever had; to become a lawyer.
In furtherance of that dream, Attorney Griffiths attended Northeastern University, graduating with honors, before moving on to law school at New England Law | Boston where she concentrated her studies on criminal law and procedure.
Throughout her journey to the practice of law, Attorney Griffiths took every opportunity that she could to learn something new and help the community. She worked as a public defense investigator in New York City, volunteered at a district court in Boston, spent six months in the Clerk's office of the Massachusetts Appeals Court, and traveled through central and South America for seven months living with local families and taking intensive Spanish classes in order to become fluent in Spanish.
While at New England, Johanna continued to volunteer and gather skills. She spent a semester in the New England Law Clinical Law office representing indigent clients in family law and landlord tenant matters. She appeared in all divisions of the Boston Municipal Court, representing clients at all stages of the criminal process in her role as a 3:03 student attorney with the Committee for Public Counsel Services. Later, she volunteered her time with the New England Innocence Project, reviewing cases for potential avenues to exoneration. From homicide and rape cases to arson, she sought to assist men and women who were alleging wrongful conviction.
Since graduating from law school and passing the Massachusetts bar exam, Johanna has explored various opportunities. She owned and managed a real estate brokerage where she specialized in assisting first time buyers with the purchase of their first home. She worked as a corporate litigation attorney representing small businesses from startup through litigation including formation, contract drafting and review, discovery, and litigation preparation. Most recently, Johanna worked as an associate attorney at a South Shore criminal defense firm that was one of the busiest in the state. There, she represented clients in all stages of the criminal process in district courts across the state of Massachusetts. Johanna prides herself in giving clients an honest and realistic assessment of their legal situation and working to get them the best possible outcome.
Attorney Griffiths lives in West Roxbury with her husband, their son, and their dog Obi.